Use with slogan
The slogan 'Designed for welders' is used in Kemppi marketing and communication materials and channels as a brand element and signature along with the Kemppi logo.

However, the logo and slogan are stand-alone elements. There should be enough space between them and they are never attached together. The same applies to any other product slogans that Kemppi might have.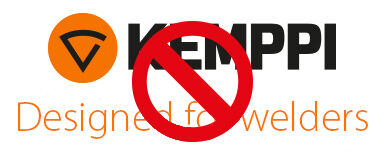 The slogan should not be used as a tagline attached to the Kemppi logo.

There should always be enough space between the logo and slogan, see examples below: